Welcome to my very first tutorial!
Well, it's kind of a pattern too - even better, right?
I'm a total rock star at tying scarves into turbans, and I have a lot of turban-style '40s hats, so I always figured my turban needs were fulfilled.... and then I saw this clip of Hedy Lamarr & Jimmy Stewart in Come Live With Me. (Which, I confess I must see. Hedy and Jimmy?! I might explode.)
Turns out, I needed this kind of turban in my life. I mean really, if only to reenact that scene. Ahhhh!
So I made my own version. It's slightly different, it has gathering & ties at the top, but I think this one is actually much more flattering. I mean after all, not everyone is Hedy Lamarr, amiright?
First off: here is the pattern!
Notes:
- The top is folded, so your fabric should look like this, but doubled into a mirror image.
- The seam on the left can either be hand- or machine-stitched, and will result in a seam that travels over the back of your head.
- I've been finishing my edges by rolling them over & top-stitching, but I've also lazily made a few out of old t-shirts & other non-fraying material that didn't even need to be edged!
So if you ignore finishing your edges, there are basically only two things to sew on this endeavor - the 11" seam on the left, and the gathering of the top.
Once you've sewn that 11" seam, all you have to do is gather the two top corners, and loop the little strip through it! I roll the strip so the raw edges are hidden, hand-stitch it so the loop is a desirable width, and make sure the stitches are hidden on the underside. A 5" strip is way too long, so I usually end up trimming the ends off. But I start there, for better safe than sorry!
So once you finish the dang thing, it's pretty simple to tie:
Drape over your head, so the gathering is at your bangs & the seam travels back towards the nape of your neck.
Crisscross the tails in the back & bring them up to the front, like so.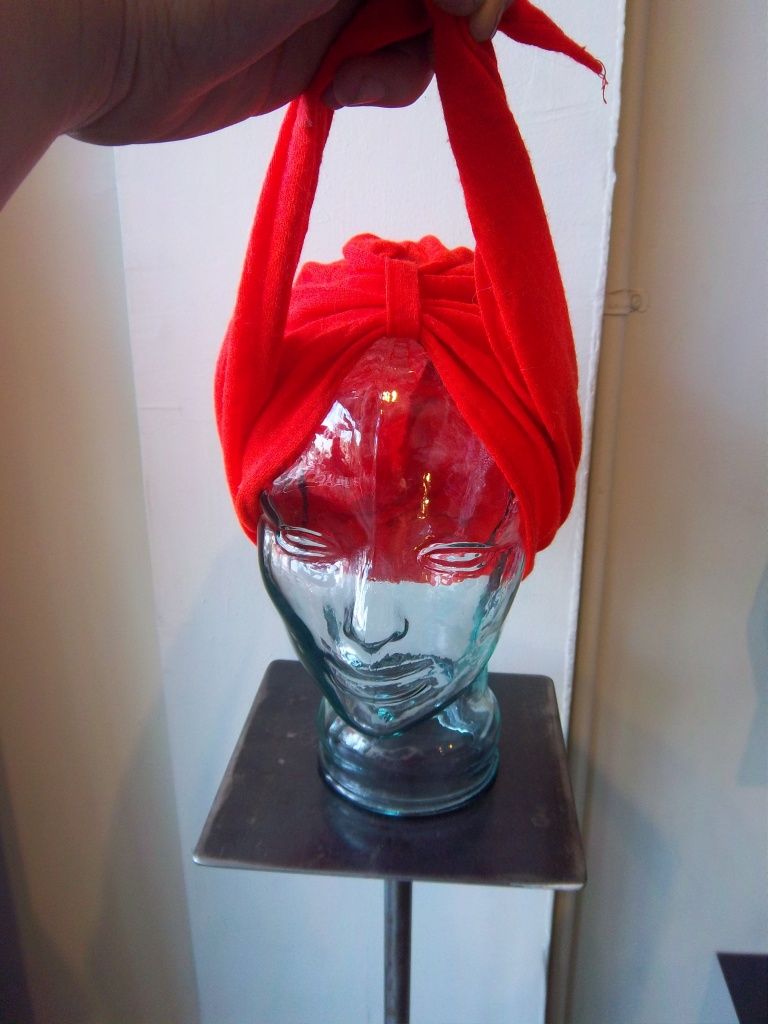 Take each tail, and pull them each through the convenient loop...
Tie the ends into a knot, and tuck the ends under.
Voila!!

Serious apologies for not having... me... in this post. Somebody has a cold right now, and regardless of how many photos I attempted to take, I ended up looking flushed, red about the nose & tired around the eyes. Stupid body!

Here's some ideas for wear/variation:
1. Sometimes, I take another scarf (or something) and hide it under there, just to give it a bit more height.
2. Instead of folding the material at the top, you could create another seam & use a contrasting material. Cuuuute!
3. Extend the length of the tails, allowing you to tie big, adorable bows.
4. You can sweep contrasting scarves or ribbons through the loop, and tie large contrasting bows, just for funsies.
5. Instead of a fabric loop, use a brooch to gather the top together. Extra sparkle, and less effort!

I'm sure there are plenty of other options, so feel free to suggest more variations!!

Please message me if you have any questions. I'm hoping my how-to was clear, but you never know... don't hesitate to ask!

xoxo